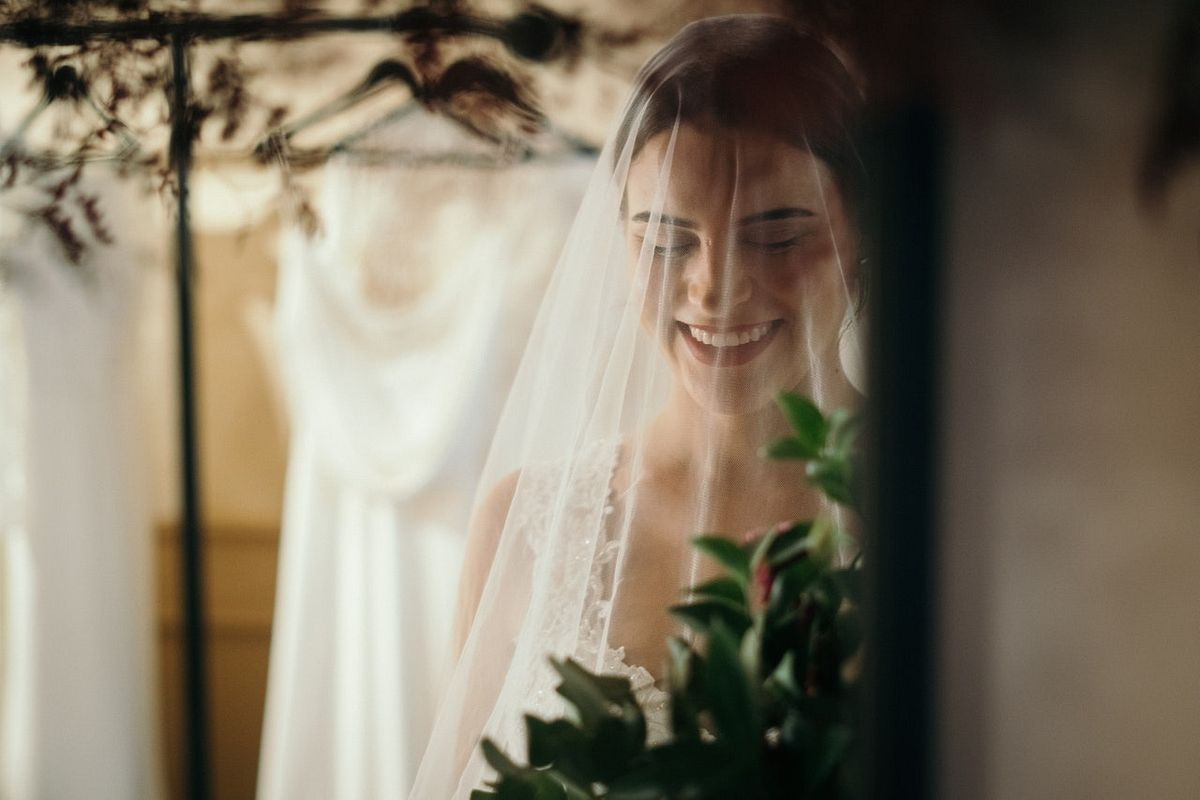 Couples who know how to pose for wedding photos will look picture-perfect in every photograph. However, not every bride or couple is comfortable with being in front of the camera. Weddings can be stressful enough without the added burden of posing, so posing to "get the shot" could be nerve-wracking for many brides.
Fortunately, we are here to tell you that there's a chance that you could have the best wedding photographs ever. Read on to discover our easy posing tips!
Posing Tip: Admire the Gown
Some brides search for the perfect wedding gown for a lifetime. Photographers enjoy capturing her before she dresses.
Posing Tip: Tinker with the Bow-Tie
Photographers appreciate documenting important events such as wedding ceremonies. Shoelaces, suit jacket buttons and watch clasps are all depicted in similar images.
Posing Tip: The Candid Moment
The first look snapshot on the wedding day is significant, but couples should not think about the photographer. Accept the moment and your emotions (tears and everything), knowing that the photographer will record every aspect.
At the same time, cameras appreciate spontaneous laughter. Photographers suggest using these locations for pre-ceremony, couple, and wedding party photos.
Posing Tip: Do a Little Twirl
Twirling highlights bridal gowns from every perspective. This bride spins like a dancer. The finished image is stunning and alive.
Posing Tip: The Forehead Kiss
A forehead kiss is not only photogenic but also romantic. Portrait photographers frequently require several of these poses.
Posing Tip: The Slow Stroll
The stroll of the couple displays personal moments. This attitude is appropriate for a wedding film, the street, and the field.
Posing Tip: The Brief Glance
Wedding photographers take great pleasure in capturing brief moments. Expect this lovely position in anything from preparation to couple and wedding shots.
What to Keep In Mind
The bulk of incorrect wedding poses is rigid and awkward. Wedding photographers and videographers advise the couple to act as if they are not present. How can I naturally pose for pictures?
1. Keep Sweet Moments Short and Sweet
Wedding couples indulge in awkward open-eyed kissing, which is unnatural. Kiss normally while in doubt.
At the same time, this means that there should be no full-on kissing sessions. Also, avoid squishing each other's noses.
2. Take Your Time
Wedding shots, especially walking shots, of couples and the bridal party can only be stunning when they are done surely, slowly, and with a lot of patience. Take your time, slow down, and make the most out of every moment.
3. Avoid Rehearsing for the Camera
Both brides and grooms must not over-practice before their wedding. You will overthink smiling as you practice and ruin your chances of a good photograph.
4. Communicate
Inform the photographers if you are nervous or prefer one side over another. It could be your height, a favourite photographic viewpoint, or the shape of your arms or tummy. Inform your photographer ahead of time to improve the end product.
Conclusion
Although genuine images that convey one's personality are desirable, standing by a garden or laughing at the sunset may appear unrealistic. Nobody, after all, wants cheesy pre-nuptial and wedding shots that will be set in stone for decades onwards. With that said, simply try to be yourself, remember the good times, and feel the love you share between husband and wife. 
Are you looking for bridal photography services in Melbourne? Zoli Dinh founded 95 Studio, a photography and filmmaking company specializing in wedding, fashion, lifestyle, and pregnancy photography and videography to help clients find the best in their precious moments. Capture your most special life events with us. Contact us today!