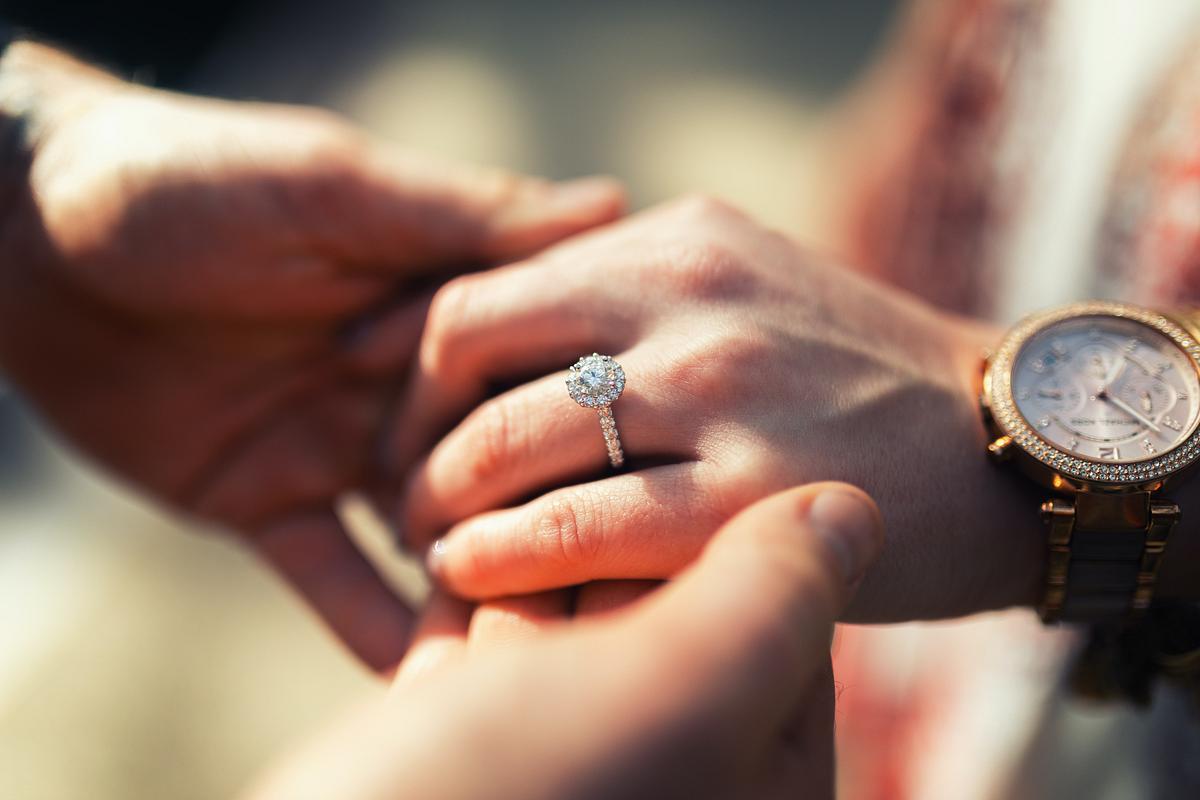 Engagement photos are the perfect way to save the amazing moment of love, promises, and the beginning of a new chapter in a couple's life. A momentous event should not just be a bland, normal shoot but a beautiful and inspiring one. 
Here are some ideas for the perfect set of bride and groom pictures.
Ideas for Fun Engagement Poses
The couple should do poses that illustrate their love. Smiling while standing together and hugging or kissing are some standard poses you can do.
Other poses can be holding hands, doing a high-five, or a reenactment of the proposal! The photographer or the couple should be as creative as possible with their poses to show the couple's identities and relationship together. The overall goal must be poses where the couple is relaxed, comfortable, and having fun.
Different Styles for Engagement Ring Photos
Most couples pose with their engagement rings, primarily because it symbolises the upcoming wedding. Photos of intertwined hands while wearing the engagement ring can make a good shot. Of course, the photographer should be creative to show off the couple's relationship while highlighting the engagement ring. 
Engagement Props Photo Ideas
Using props for engagement shoots is an excellent way to make it look more fun and romantic. The props should have a significant meaning for the couple; the more sentimental, the better. You can go from simple things to extravagant ones—unleash your creativity and enjoy!
To start, here are some props you can prepare for engagement photos:
Banners with sweet messages like Just Engaged, She Said Yes, or the couple's names
Scrabble letters to make a play on different words
LED fairy lights and sparklers to make things sparkle and shine
Favourite food and drinks—ice cream, soda, mugs of beer, coffee, cake—the possibilities are endless
Blankets, picnic baskets
Flowers
Pop culture references from their favourite movies or shows
Books
Balloons, confetti, cotton candy
Engagement Shoots Across All the Seasons
The shoot's backdrop can rely on the natural look of the environment during autumn, winter, spring, or summer to make the photos look exciting and memorable. 
1. Getting Engaged during the Fall
The autumn season can provide a beautiful colour palette to the picture that evokes a feeling of warmth. Couples can take colourful outdoor shots, especially in the mountains or the woods. Trees and fallen leaves are always great props that can enhance photos. 
2. A Cool Winter Engagement
The couple can take pictures at an ice rink or inside the house drinking cocoa in front of the fireplace. They can go skiing or just huddle together in their pyjamas. Or, if you are in a place where there's snow, use it as a beautiful backdrop for the photos.
3. Photoshoot Ideas during the Spring
A lot of couples get engaged in the spring. Photoshoots can feature cherry blossoms or tulips. You can take advantage of natural floral backgrounds or a lovely spring drizzle!
4. Fun Engagement Shoot In the Summer
The photographer and the couple should prioritise showing their fun side during this season. You can take pictures at a beach or an amusement park. You can even go on picnics or beachfront dinners. 
Final Thoughts
Engagement shoots should portray the love and the relationship the couple has shared over the years. So, when deciding on a theme for an engagement portrait, always take to heart the couple's history, the things that matter to them, and what they both enjoy doing together!
If you are looking for experts who can make amazing pre-wedding photos to show during your wedding, there's no need to search for "engagement photographers near me". Set an appointment with 95 Studio. Call us today and tell us your vision for your dream engagement shoot!